RedOwl
Partners in life as well as on the stage, harpsichordist Jonathan Addleman and baroque violinist Sari Tsuji have been collaborating for over fifteen years in innovative programmes of 17th- and 18th-century music.
Sari and Jonathan are both active musicians in the North American early music scene. They began performing together while they were students at McGill University. Since then, the duo has established itself with a recital series in Fredericton, New Brunswick. In 2012, the ensemble expanded its season to include performances in Montréal.
RedOwl's concerts are always engaging and entertaining, whether performing music that depicts cuckoos, quails and nightingales in Music for the Birds or Bach's complete Sonatas for violin and harpsichord. Following and expanding upon a specific theme, baroque music is presented in a way that connects the works with its historical context, showcasing works by both famous composers and their lesser-known contemporaries.
Jonathan Addleman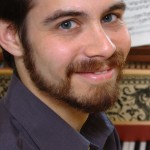 Harpsichordist Jonathan Addleman has been praised for his sensitive musicality, creative continuo playing, and for the lushness of sound he achieves on the instrument. He has performed recently with Ensemble Caprice, the Theatre of Early Music, I Furiosi, Aradia, the Orchestre Symphonique de Laval and the Orchestre Symphonique de Trois-Rivières, and has featured as a soloist and chamber musician at early music festivals in Montreal, St-Adolphe d'Howard, Saint John, and Sackville, New Brunswick. Jonathan has performed the complete sonatas for harpsichord and violin by Bach with violinist Sari Tsuji, and all of Biber's Mystery Sonatas in collaboration with violinist Nadia Francavilla. A recent highlight was giving the first performance of a newly built upright harpsichord in Saint John.
In addition to performing, Jonathan is an instructor and accompanist at McGill University. He also maintains and tunes the harpsichords and fortepianos at both McGill and Concordia Universities, and tunes for organizations such as Arion Baroque Orchestra, CAMMAC, the Festival International de Musique Baroque de Lamèque and the Fondation Arte Musica.
Sari Tsuji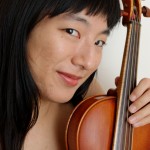 Sari Tsuji is a baroque violinist and sometimes baroque violist based in Montreal.
Currently she performs with some of Canada's leading period music orchestras, including Arion Baroque Orchestra, Ensemble Caprice, Aradia Ensemble and the Studio de musique ancienne de Montréal. As a chamber musician, she has toured in Mexico with La Cigale and can be heard on recordings for the early-music.com, ATMA, Analekta, NAXOS, and Leaf labels.
Sari began studying the violin in her hometown of Winnipeg, Manitoba with Elizabeth Lupton at the age of four. She holds degrees in violin and early music performance from McGill University where she studied with Thomas Williams, Emlyn Ngai, Hélène Plouffe, Hank Knox and Betsy MacMillan.